Cloud Migration Services
Migrating company data between platforms is a time-intensive and delicate operation. In order to ensure that you keep all of your data, you need an expert partner to oversee the migration process.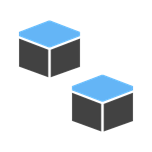 TekTel has experienced technicians who have successfully managed countless data migrations between many platforms. Whether you're upgrading physical infrastructure, transitioning to the cloud, or switching cloud providers, we can help you securely transition your data and get started on the new platform.
The dedicated cloud is hosted on-site and protected by firewalls, ensuring your data and operations are shielded from third parties and bad actors.